Instagram is one of the most popular social media sharing platforms, with more than 1 billion monthly users.  Its explore option allows users to discover profiles that match their tastes and aesthetics. 
If you plan to get the most out of your Instagram account, it's best to explore different Instagram templates and how they can help you elevate your brand. 
Yes, you can use many different types of Instagram templates to make your posts as visually appealing as possible. But, what are they, exactly?
What is an Instagram Template?
An Instagram template is a ready-made post or layout that users can further edit or customize. They are often used by influencers, celebrities, marketers, eCommerce sellers, regular joes, and even big-name brands to make their posts look professional and personalized. 
Instagram templates are excellent tools for those who do not have the expertise or time to develop captivating and engaging Instagram posts from scratch. 
For many Instagrammers who wish to elevate their brand, crafting the best visual content that echoes their identity is critical. And that's where perfectly crafted posts with the help of Instagram templates come into play. 
Remember, if you don't have the skill of a professional graphic designer, using a pre-made Instagram template will remove the burden of racking your brain daily for posts that can attract a healthy following. 
In short, Instagram templates can help people discover your feed and click through your website. They are extremely useful if you want to stand out from your competition, especially as the number of businesses on Instagram has already exceeded 200 million. 
Remember that Instagram templates are not only for those who run businesses or online stores. Anyone can use these templates to craft and maintain a consistent aesthetic. 
Read on for some of the best templates you can customize and create for your Insta posts:
Best Instagram Templates (Story, Blank, Giveaway, Birthday & more!)
1. Instagram Story Template: Message Reminder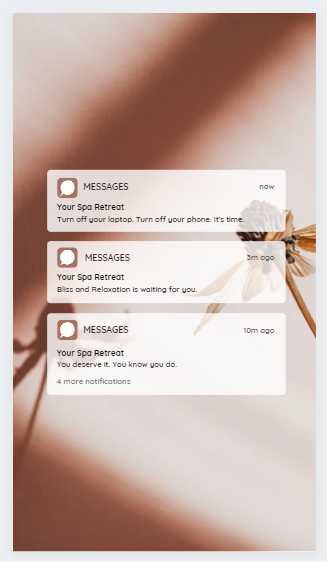 Source: Canva
This Instagram Story template is not only for self-care, spa, or wellness posts. It can be customized to match aesthetics that aim for calm and serenity. Online sellers can share this Story to remind their followers that it's time for some self-care!
The best thing about using an Instagram template from Canva is its seemingly endless customization options. 
You can change the font, text, and even the color scheme for this particular template. 
2. Happy Birthday Instagram Template
Posting a birthday greeting for your best buddy doesn't have to be identical to any other birthday post out there. In fact, you can easily create a personalized greeting that will perfectly match your profile's aesthetic. 
Maintain your cohesive look and still manage to wow your Instagram followers (and get plus points from your bestie!) with a happy birthday Instagram template.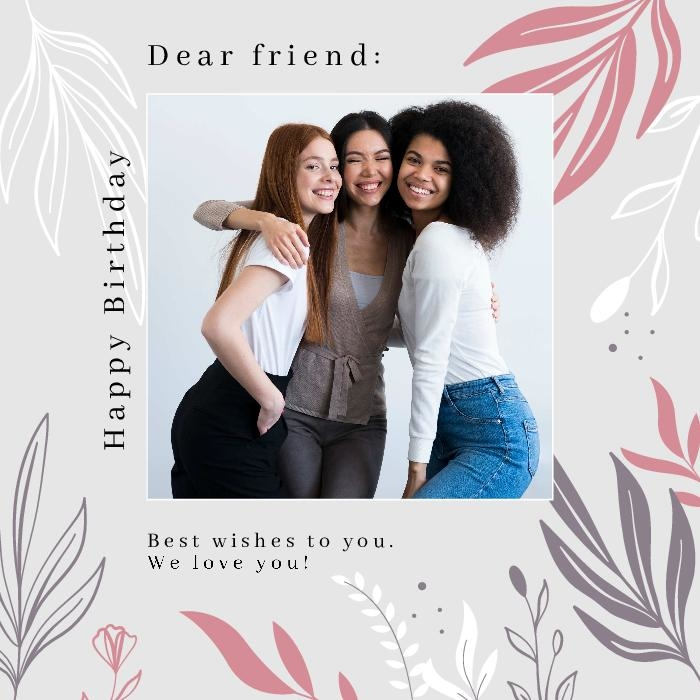 Source: Wepik
Simply change the image and update the text to add a more personal message, and you're good to go!
3. Instagram Reels Template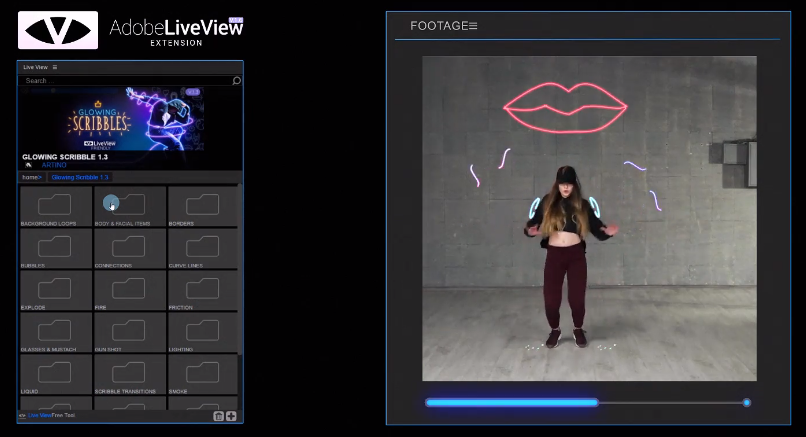 Source: Envato Market
Instagram Reels is the platform's latest addition to its roster of content sharing methods, and it's one you should definitely master as soon as you can. 
Reels have grown in popularity because they have allowed content creators to unleash their creativity. They are an upgraded Instagram Story where you can add audio, video, and text to make it even more appealing to viewers and followers. 
Instagram Reels is perfect for sharing videos with accompanying music, animations, transitions, and creative captions to make your feed even more captivating and engaging. This template is ideal for influencers in the gaming world who want to add some sparkle to their content. 
4. Instagram Giveaway Template
Source: Raffle Press
This Instagram giveaway template is perfect for promoting a specific product. 
You can post three to four versions of it on your feed and ask your followers to comment with their favorite one. Of course, when they participate, they can stand a chance to win your giveaway! 
Your caption should include clear and specific instructions on how they can join the giveaway. Here's an example:
Follow your account

Like the giveaway post

Comment your favorite product version and tag two friends

Share the photo as an Instagram Story for an additional entry
This is an excellent promotional strategy that can increase your follower count and overall engagement in no time. 
5. Instagram Photoshop Template: Animated 
Using a template for your Insta posts doesn't mean you don't have awesome editing skills. 
If you're adept at using Photoshop and other image editing software, then Instagram Photoshop templates are perfect for you. Simply look for ones that are in PSD format so you can get the raw file you can edit as you like.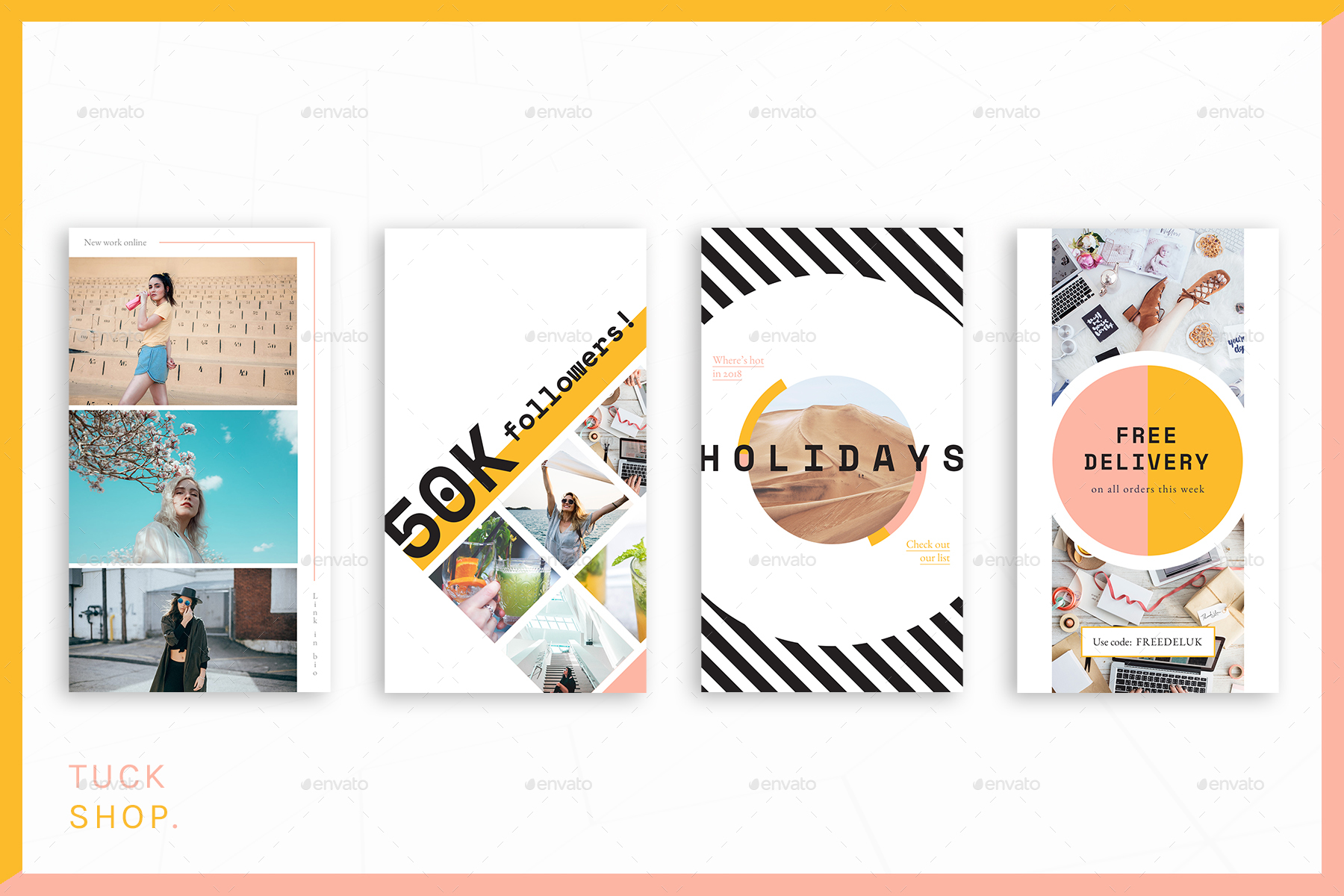 Source: Envato Market
You can choose a template that provides plenty of options, such as an animated post you can customize for your brand.
With these templates, you can edit and share photo galleries, quotes, lists, sales achievements, and a whole lot more! 
6. Instagram Carousel Template
The Instagram carousel, first introduced in 2015, allows users to share up to ten photos in one post. This feature became an instant favorite among users as it gave them the feeling of flipping a photo album without taking up too much space in their feeds. 
Image carousels have become an excellent way for businesses to increase their engagement with followers because it allows them to be creative with their posts. 
According to Search Engine Journal findings, carousel posts give businesses a 10% higher engagement rate than single-image posts and 33% better than videos.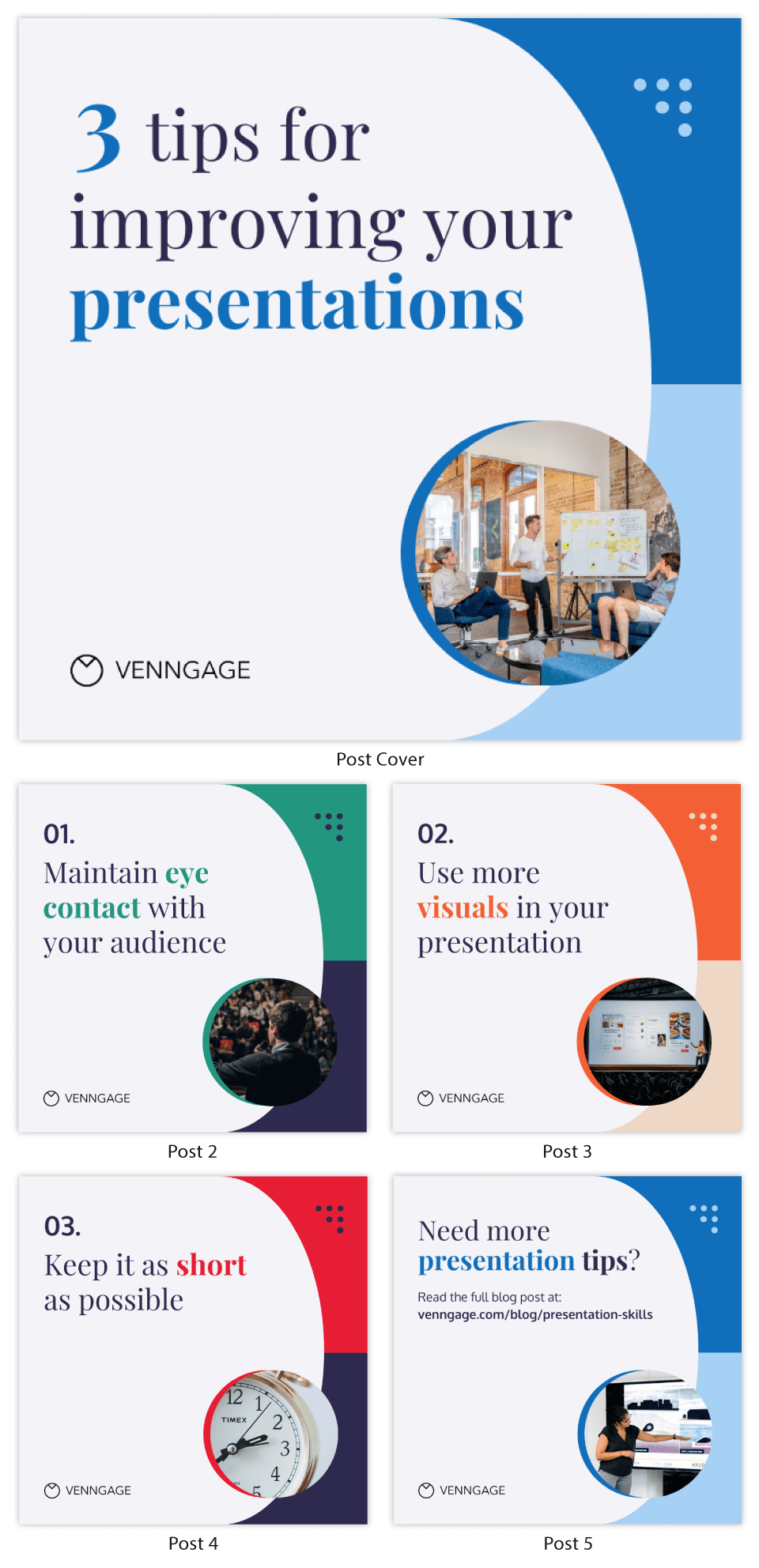 Source:  Venngage
What's great about using Instagram carousels for brands is that you can also use the same to update your connections on LinkedIn, as the B2B platform has also introduced the use of the same feature. It's like hitting two different sets of audiences with one post!
7. Instagram Bio Template
If there's one challenge that most Instagram users struggle with, it's creating a bio for their profile. 
Unlike other social media platforms where you have the freedom to truly showcase who you are, Instagram only provides 150 characters. 
So how do you tell your followers about you, your brand, what you offer, and why they should follow you? 
An Instagram bio template is one way to cram a ton of information into just a few characters. 
You know what they say—a picture is worth a thousand words. In Instagram's case, you can use emojis to convey tons of information with just one character. 
When used strategically (and with imagination!), they can be a perfect way to highlight your brand personality while engaging your followers. 
Here are some emojis you can use:
📍: for your physical address

📩 : for your email address

👇: for directing followers to a clickable URL

👉: for directing followers to something specific

🎥 : for directing them to your YouTube channel
Source: @garyvee on Instagram
8. Instagram Grid Template
Another aesthetic strategy commonly used by brands and influencers to present their content on the platform is an Instagram grid or puzzle template. 
The idea is to create 9 to 12 panels that, when put together, create a single image. 
It can be quite tricky to build a unified Instagram grid that works seamlessly. You must avoid blank images or broken-up texts that will interrupt the flow of the overall image. 
For the best visual aesthetic, your individual posts must work as a singular image along with the rest of the grid as a whole. And this is where an Instagram puzzle template comes in. 
When you have a good template on hand, you can easily manage your posts and make sure they are cohesive.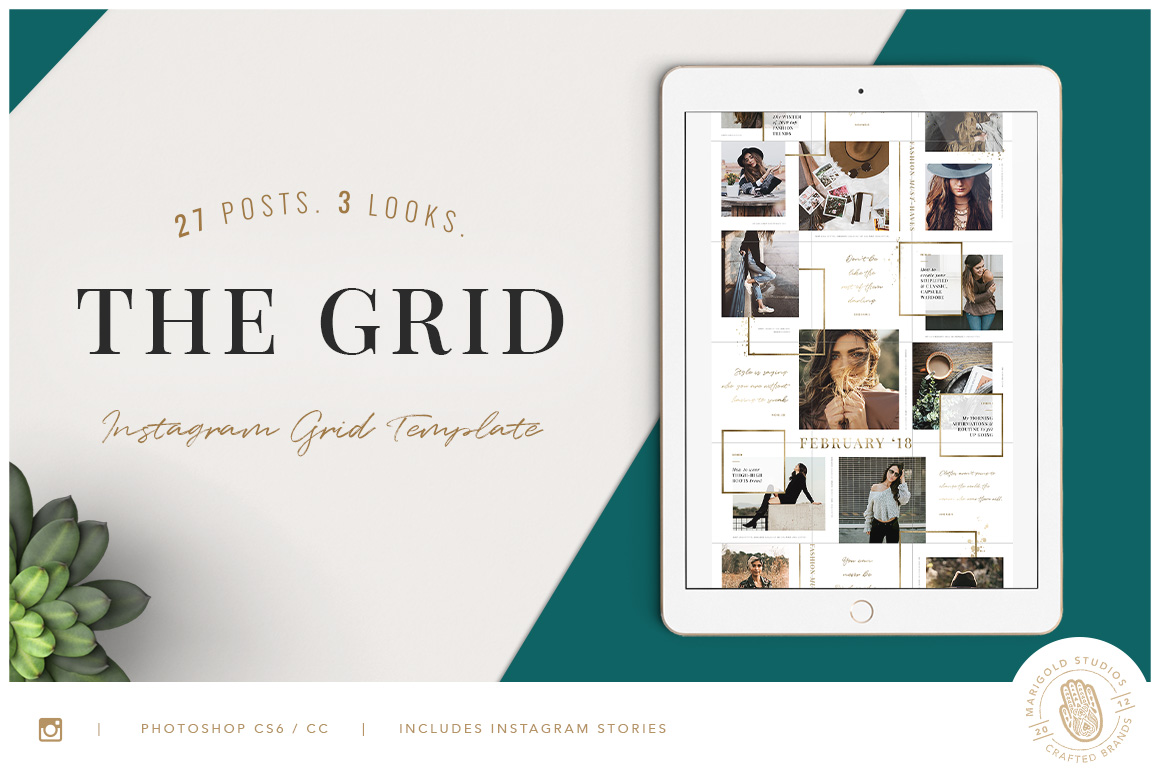 Source: Design Cuts
In this example template, you'll see that each individual post doesn't look out of place or extraneous when viewed on its own. 
When your followers view your profile, they will see an impressive grid that's beautifully laid out, with valuable content spread across all the posts. 
9. Instagram Bingo Template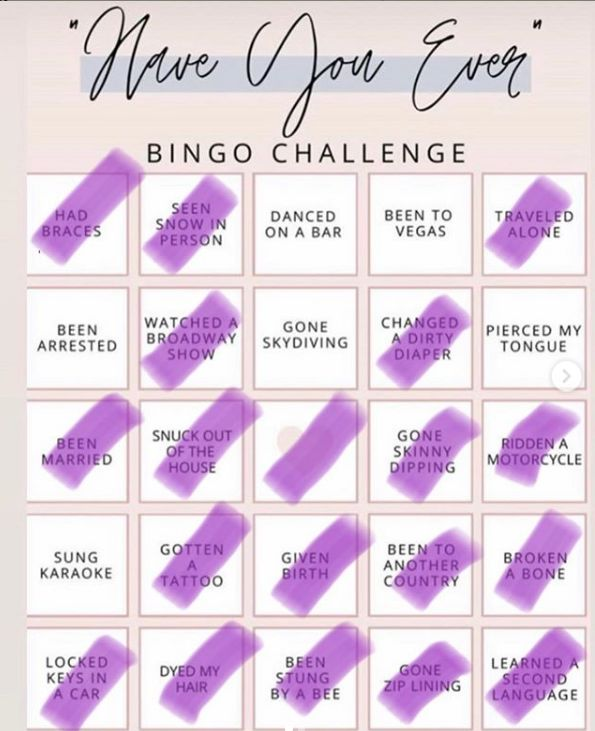 Source: HITC 
Instagram is not only about showcasing your products or sharing photos. You can also use it for market research and get to know more about your followers. 
One challenge that can help you do this is the Have You Ever bingo, where participants can fill in the boxes about what they have done or haven't done yet in their life. You can customize the activities to align with your products or branding. 
Participants can tick off the relevant entries in the grid and share the bingo card on their Stories.
These participatory templates can increase engagement by starting a domino effect. Your followers can use your created template, share their version on their Stories and feed, and nominate their friends to join. 
This is a fantastic soft-selling strategy because many people would happily accept the challenge for fun!
10. Instagram Follow Us Template
Source: Poster My Wall
You can explicitly ask users to follow you on Instagram and other social media channels platforms. 
To make your Story even more engaging, you can use animated follow us Instagram templates. 
Moving posts like these are visually pleasing when you come across them, so they can immediately draw attention and encourage users to follow and subscribe to all of your accounts. 
11. Instagram Blank Template
.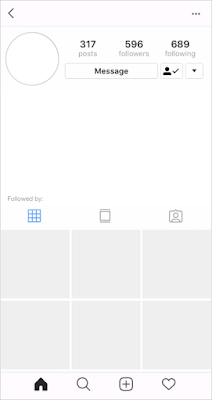 If you want more freedom in your posts, you can work with a blank Instagram template. This updated blank template works well with the latest version of Instagram and can be used for Google Slides. 
Blank templates let you add images, text, stickers, and other vectors within a given dimension. 
12. Instagram Frame Template
Adding frames to your Instagram posts is another way of elevating your feed with ease. Frames add a ton of character and make your posts visually pleasing. 
A simple frame can ensure that your posts look tighter and more cohesive. 
Align your frames with your branding by using an Instagram frame template that you can customize.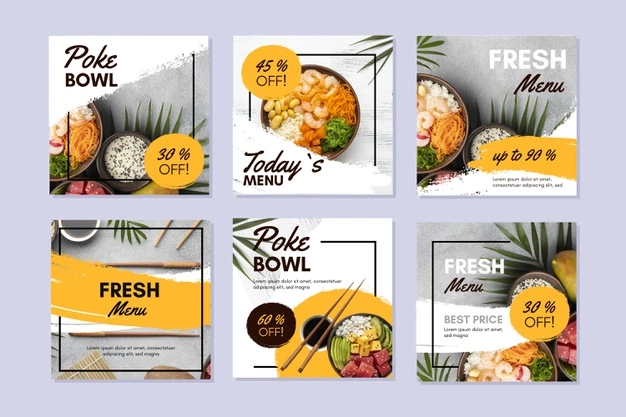 Source: Freepik
This template is great for promoting various products as a new or limited-time offer. 
13. Instagram Highlights Cover Template
An Instagram Story can only be viewed from the feed for 24 hours. Once that time frame is up, your users will no longer be able to view your shared Story. 
To make certain Stories a permanent post in your profile, you can save them as Instagram Highlights. This feature archives all of your shared Stories that fit one theme.
Highlights are perfect for keeping the most engaging and informative Stories available to all of your followers, old and new. 
So, how do you entice your followers to click and view your Highlights? First, you must organize all similar Stories and place them under one Highlight.
Then, you can make your Highlights stand out with a curated cover that clearly indicates the theme. Best of all, your Highlight graphic covers can match the rest of your profile beautifully!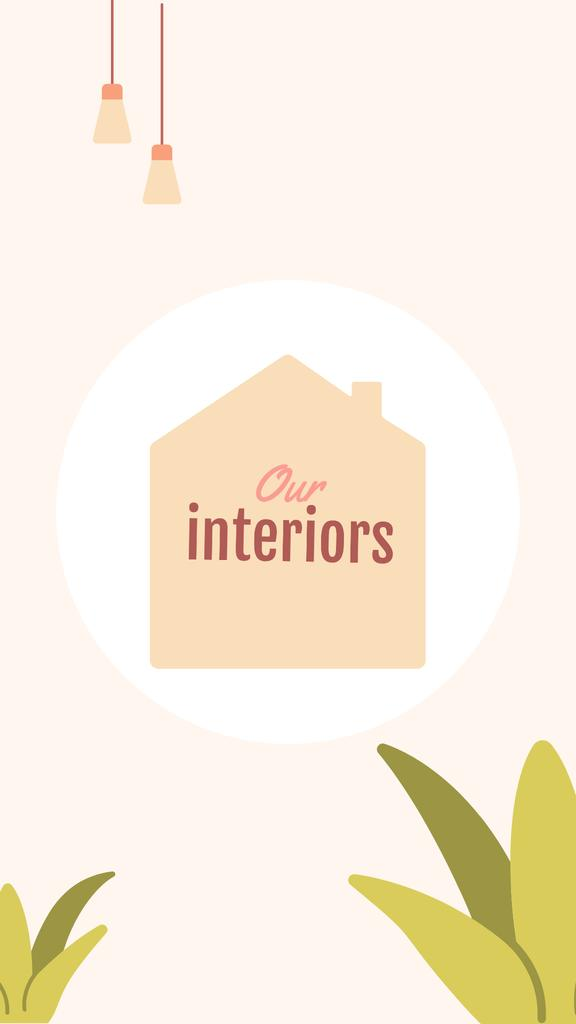 Source: Crello
Using covers for your Highlights makes it easier for your followers to peruse your Story collection while staying true to your branding aesthetics.
14. Weekly Weight Loss Tracker Instagram Template
Weight loss tracking is a great way to motivate individuals to work on their health and wellness goals. Sharing them on your social media feed can help you (and them!) stick it out. 
This is a great way to be accountable to your audience and yourself.
Of course, you can take your New Year's resolutions up a notch by using a weight loss tracker Instagram template to update your followers about where you started and how far (or close!) you are in reaching your target weight.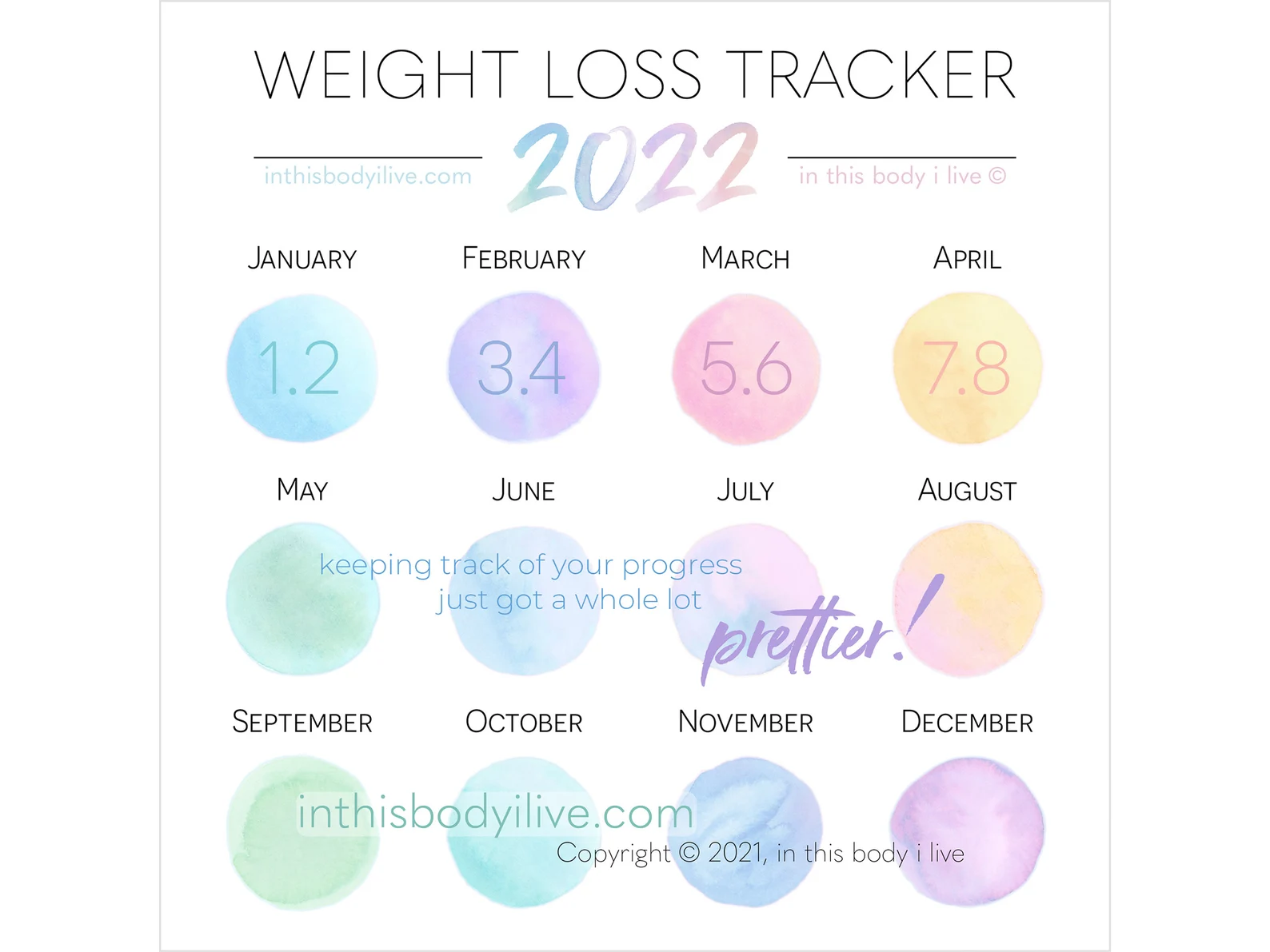 Source: Etsy
15. Instagram Profile Picture Template
How do you showcase your brand and make an impact at first glance? It's through your profile picture. After all, it's the first thing that followers will notice when they see your account. 
An Instagram profile picture size is only 110 x 110 pixels onscreen, but experts recommend uploading a design with a higher resolution of at least 360 x 360 pixels. Remember that Instagram will do an automatic circle crop of your profile picture so take that into account when designing yours. 
You can leverage this circular crop by adding frames or logos that will show off your branding and take your profile photo to the next level!
Source: PicMonkey
Conclusion
Curating your Instagram posts to draw more followers begins with compelling content. You need to make sure that you can sell a certain lifestyle or aesthetic that they will want to reflect. 
An attractive and engaging Instagram profile ensures that your vibe and aesthetics represent your brand positively. Your social media branding should also reflect your overall mission statement. 
There are many ways to create posts, Stories, and Reels, and the easiest way to do so is by using Instagram templates. These templates are excellent guides, especially if you're just starting out on the platform and struggling with coming up with content day in and day out.
You can choose to hire a professional to curate your profile for you, but if you want to work independently, templates can be your lifesaver. 
Make your Instagram feed deliver a different kind of experience for your followers and bring your ideas to life with these branded templates.